Service offered by the best interior designers in kerala
An interior designer is responsible for the look and feel of a house or building. In addition, they provide improvements and modifications to the exteriors of residential and commercial buildings, such as stores and restaurants.Civic Interiors is an top interior designers in Kerala that works with clients to determine the appearance they wish for their homes and businesses and then plans out the details involved in making that happen. Our services include furniture placement, paint colours, flooring, countertops, lighting, outdoor landscaping elements, wall coverings, window treatments, and more.
We tailor our services to meet your home, and office design needs with our team of experts. Our interior design services include residential interior designing, commercial interior designing, corporate houses, and industrial establishments. Our expert designers can turn your ideas into reality with years of experience.Whether it is a small home or office, or a large corporate project, we can meet our clients' requirements regardless of whether the location is nearby or far away. All you need is an idea for an ideal place to live or to work, and we will help you make it happen right at your fingertips! Need more information about our services? Get in touch with us on +91 9846069349
Kitchen design
The concept of kitchens has changed a lot. Now kitchens are the most advanced place in a home with lots of kitchen wares and gadgets. As part of a kitchen remodel, or maybe when you're installing a new one, consider your kitchen design carefully.
The design and layout of your kitchen are as important to your family's cooking habits as it is to home decor. Suppose you're only beginning to consider how you want your kitchen to look or work. Here are ten things that we take care of when planning and designing your dream kitchen:
Out with old cabinets
Kitchen sink location
Layout Planning
Formal vs informal
Colour scheme
Lighting
Appliances
HVAC (Heating, Ventilation and air conditioning)
Equipment
Flooring Choosing
Space utility is essential in the kitchen since there are many things to store. Through the use of drawer dividers, pull-out trays, rollout trays, and drawer dividers, our modular kitchen designers create a space-saving design. They will make storing food and drinks, gadgets, and appliances were easier.
Civic interiors, top interior designers in Kerala, offers you innovative ideas, elegant design, and the latest quality products with a professional touch. If you are looking for kitchen interior design in Kerala, contact us on +91 9846069349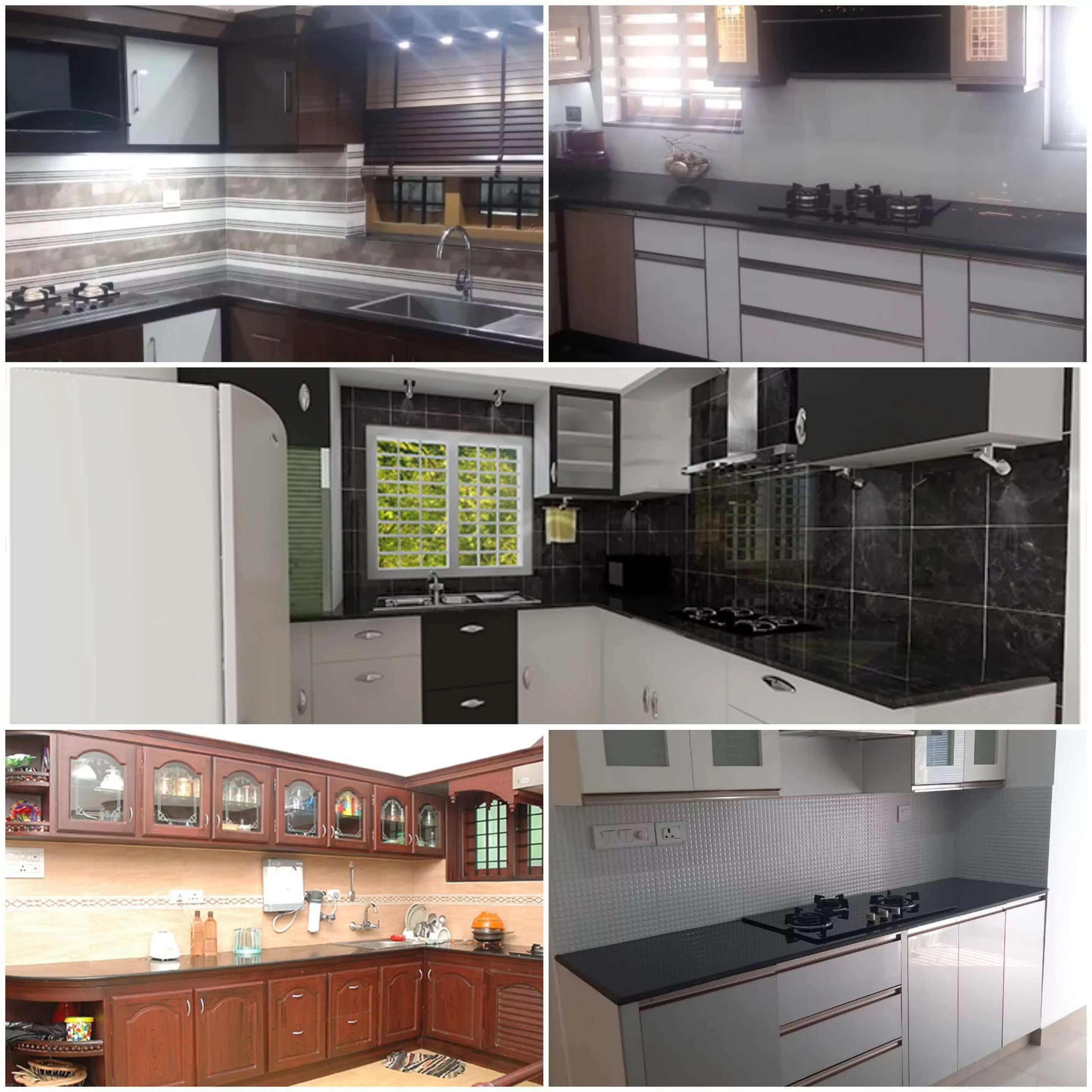 Bedroom and Kids Room design
How does it feel to wake up in a beautiful room where everything you see around you inspires and motivates you? Having an interior designer create the ideal space for your dream home enhances everything you do: how you live, how you work, and how you spend time with those you love most. Our top priority is ensuring your home looks as beautiful as you deserve it to be. Therefore, we at Civic Interiors work hard to create homes that make life easier, healthier and more fulfilling.
Bedrooms are one of the things we are passionate about as interior designers. Creating them is not always as simple as it sounds. There are a lot of things to consider before starting. Before we begin with any decorating ideas, we need to figure out what our clients want from their bedrooms. If they wish to create a relaxing or calming atmosphere, they should paint the walls a light colour. On the other hand, if they wanted something modern and fresh, bright colours would be appropriate. Also, we will decorate the room with pictures or posters on the walls or wardrobes, or even just some suitable reading materials scattered around.
Every child has a beautiful world of their own. interior design companies in kerala might use various techniques to make it more attractive. The kids' rooms will be full of toys and other stuff. This often leads us into trouble, as maintaining their mess can be difficult. Keeping their property organized is an essential part of creating an organized space within their rooms; however, teaching them how to keep things clean is just as significant.
Interior decorators in Kerala create stunning themes for your children's bedrooms. Civic Interiors uses innovative techniques to decorate kids' rooms by drawing on walls, paintings, posters and other items that can give a creative touch to the space. Every home should have its style of interior design.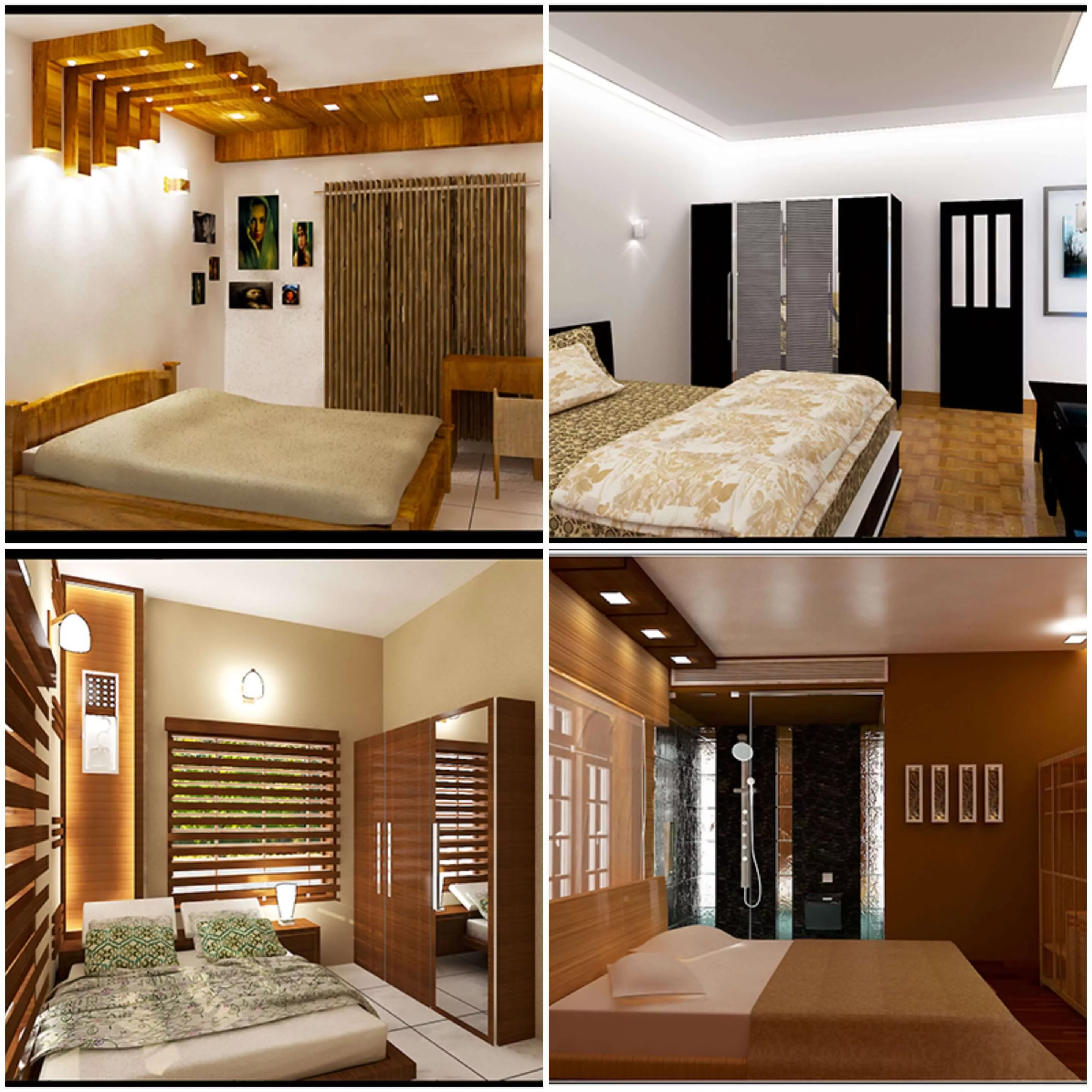 Dining area Design
At Civic Interiors, we take great pride in designing dining areas for our customers. It is essential to think about the purpose of the dining room before decorating it. Many homes use the dining room as a place for guests and their families to gather or eat together. In other cases, it may only be used for formal dinners, and it needs to look more traditional and elegant.Once we determine the purpose, we determine the decor style and budget.
Every step of the way, we work with you to make informed decisions that reflect your budget and taste. The room can also be furnished without any furniture whatsoever. Instead, we can hang some decorative objects on walls and enjoy their beauty from time to time. You have many options when it comes to decorating your dining room area, and each one depends on your preferences and the available space.
Civic interiors, one of the top home interior designers in Thrissur will take care of everything related to your dining area. There are requirements for the dining table, dining sheet, seating, chair styles, crockery style, lighting, washing area, and other hygiene requirements. Rather than replicating or copying another design, your dining area will be unique to you. While designing such a special space for your home, Civic Interiors pays close attention to every detail.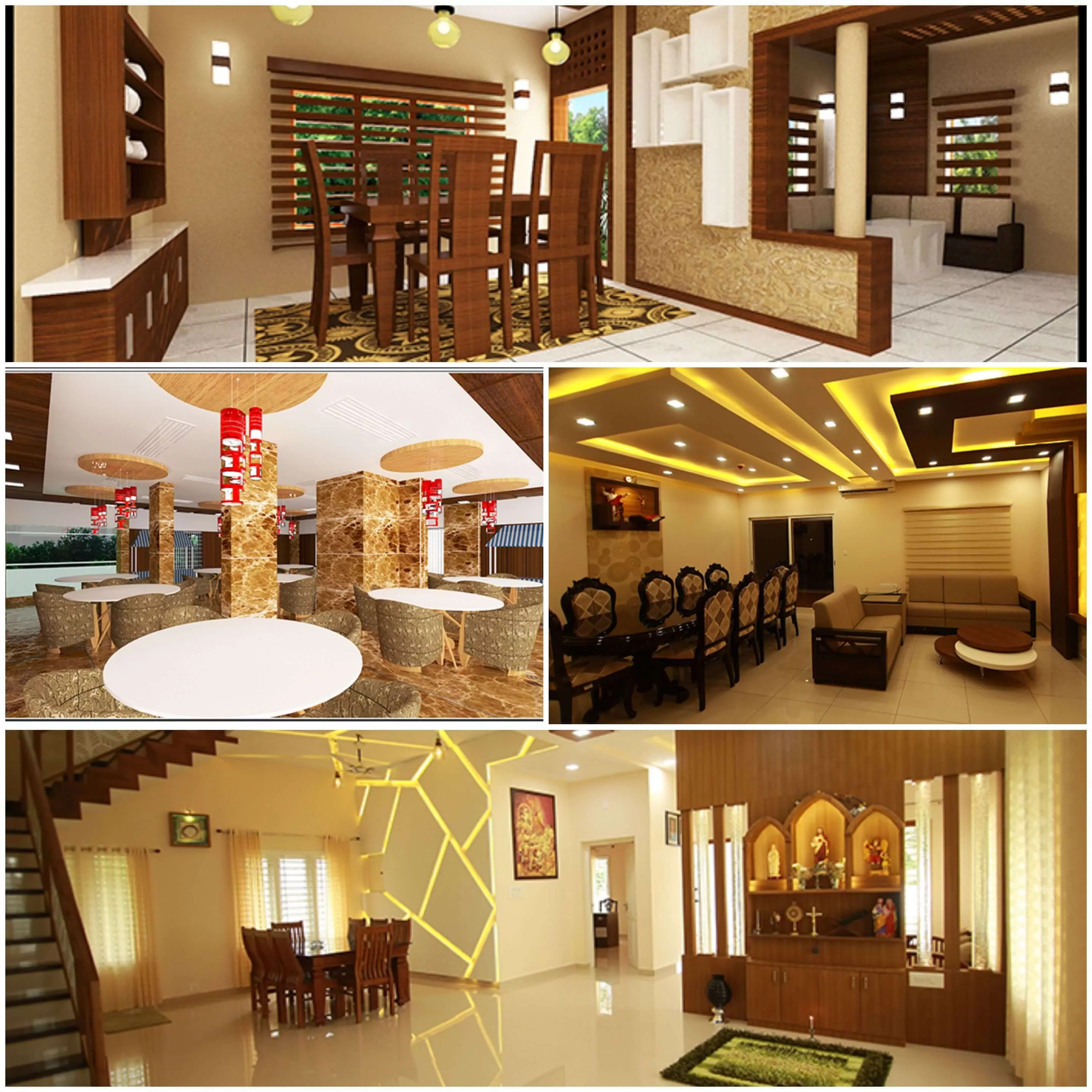 Living Room Design
A living room needs to be elegant yet inviting. When guests come over for dinner, it needs to be comfortable as well as look fantastic. The interior designers at Civic know the importance of making living spaces look beautiful; after all, this is where most people spend most of their time. Simply tell us about yourself and your lifestyle (and tastes) – then leave it up to us!
It is essential to have a functional living room space, whether entertaining or relaxing. An interior designer in Kerala will ensure that every element in your space complements each other - from paint colours to furnishings to artwork and window treatments. Also, the expert will make sure that each item emphasizes (rather than detracts from) what is most important!
Civic interiors have a team of designers and carpenters who can design an elegant living room with appropriate furniture, lighting, tables, accent pillows, and TV units. If you are looking for a professional interior designer in Kerala, contact us now on +91 9846069349.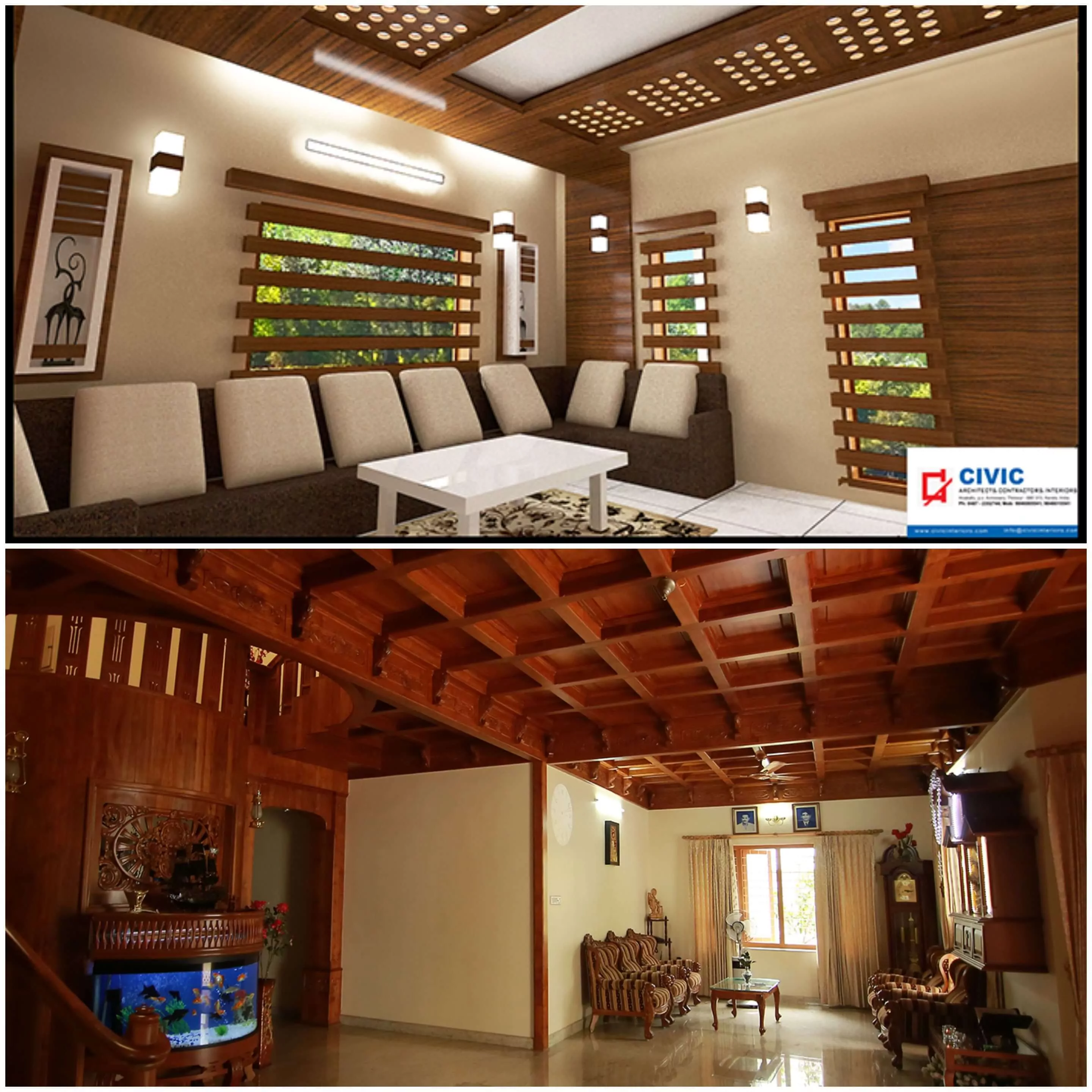 Office Interior design
Although an office is used for business purposes, it has much more than that. Aside from functioning as a functional space, your office represents who you are and what your business stands for. The right office decor can boost employee morale, make a positive impact on clients, and even help you attract the right talent that fits your brand culture.
However, these aesthetic qualities come with a cost: not all interior design projects will assist you in meeting your objectives. It would help if you discussed where you want to go with your office with your interior designer before they start designing. Your goal is to be as transparent as possible about your goals, expectations, and budget so that they don't waste their time on designs that aren't feasible or won't meet your expectations.
If you do so, you'll not only get a beautiful new space, but you'll also boost productivity, improve communication with employees and clients alike (after all, a good design can make anyone smile). It also showcases what makes your business different from the others in the industry.
Need help choosing or hiring an interior designer? Civic Interiors is one of the best office interior designers in kerala, with highly qualified and skilled designers. Among many other things, we create a front office design, employee cabins, seating and tables, cafeterias, ceiling styles, conference halls, and others that pertain to your industry, colour theme, etc.
We specialize in providing complete office interior design solutions, from planning to designing the space to selecting flexible furniture. Our goal is to create an environment that encourages workers to flourish throughout the day.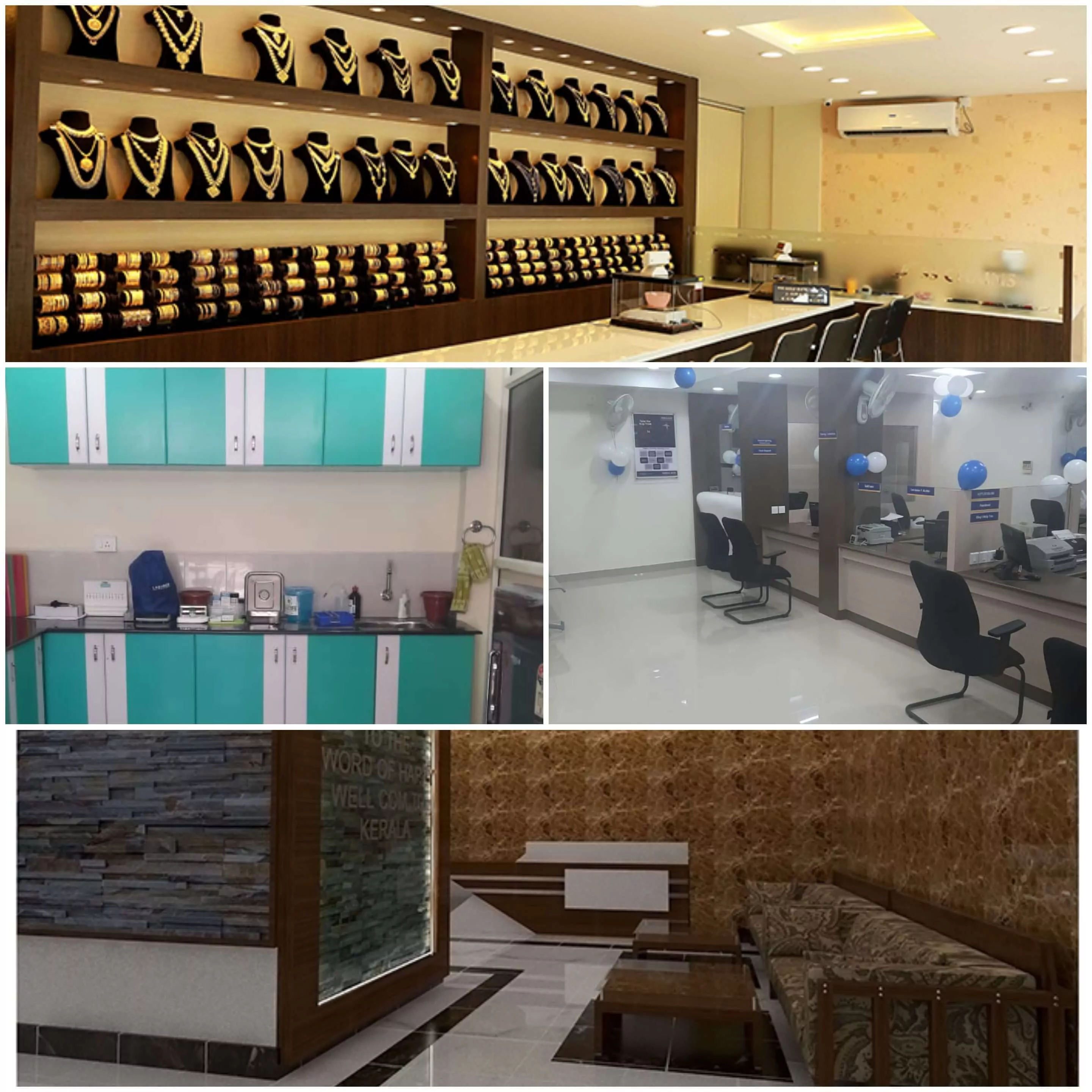 Why civic interiors for make your dream into reality?
You can't deny that a beautiful interior makes your house or office more appealing. Interiors matter a great deal when it comes to commercial spaces. Using various decorating techniques, colour schemes, and other elements, Civic Interiors can plan, design, and remodel a space. Hire Civic Interiors, interior decorators in Thrissur with experience in all aspects of interior design. Our expert services will cover residential and commercial interior design projects, depending on your specific needs.
When you cannot afford to purchase new furniture or renovate an old one, we provide refurbishing services at affordable prices so that you can efficiently meet their requirements. Civic interiors are one of the best interior design companies in Thrissur, Kerala with a high success rate and many satisfied clients. What we specialize in is:
Designing residential and commercial spaces
Remodelling, planning, and consultation
The provision of colour and materials
Implementation of all interior specifications
Flooring
Furnishing.
Our specialities are
Interacting with the client to plan the designn
Summarizing the budgetary plan
Keeping the client informed of the progress and quality of the work
Completion and handover of the project within the stipulated time frame
Enjoy the next level of interior experience with our 23 years of excellence...